Give Someone You Love The Gift of Creativity With A Petersen Art Center Gift Certificate!
Choose from the following Gift Certificate Options:
Class Gift Certificates for New Students: 25% off
Class Gift Certificates for Current/Past Students: $5.00 off
Pottery Pack Gift Certificates: $180 (Class, Clay & Tools)
Face Value Gift Certificates for $25 to $100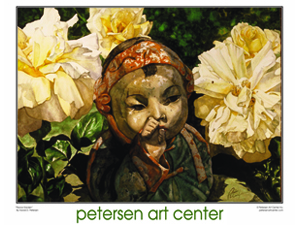 Give someone you love the gift of creativity by giving a gift certificate good for their first month's tuition in any available class we offer. There are special discounts available for most class certificates including our NEW STUDENT GIFT CERTIFICATES, which are now on sale for 25% off (Regularly $110, on sale for $82.50 through 12/24/22). Buying a Gift Certificate is easy! Purchase through these easy steps:
1. Come to our office Monday through Saturday, 11:30 a.m. to 4 p.m. at 1025 East 2100 South at the top of the stairs.
2. Purchase via our payment window on this site: Just make a $105.00 payment and include a request in the message window for a new class gift certificate, with the name and address you would like the certificate sent to (note if you choose mail delivery, the poster will be provided via certificate to be redeemed at the center (we will not mail the poster).

3. Gift Certificates for current (or recent) students are also available at a discount! Get a Gift Certificate that current students can use for any class for $105 (a $5.00 discount). Purchase in the same way that you would buy above, either at the office or via the payment window. UNTIL Christmas all Gift Certificates include the free poster
Limitations and restrictions on this offer:  Certificate may be used for discounted tuition only by NEW STUDENTS who have not been enrolled at the Petersen Art Center in the 6 months prior to use.  Good for 24 months from the date purchased.  Not valid for cash refund.